Teddy is an adorable and curious fluffy red bull.  He is excited to find his new family and forever home.
Current Height – 33 inches
Current Weight – 226 lbs
Feeding status – weaning 
Teddy is a relaxed fluffy bull calf.  He enjoys strolling around the pasture at Fluffy Feather Farm and exploring with his mother, Brenda.  Teddy is ready for his new pasture now.
Brenda
Height: 45″
Color: Dun
Teddy's father is a red Gallaway Highland cross similar look to this bull.  This is NOT our bull and NOT Teddy's father…just a similar looking bull.
Buyer is responsible for transportation from Northern Illinois after weaning
We founded Fluffy Feather Farm in 2022 as a new adventure in our long-time love of animals. Previously, we worked in the pet industry and our desire to step back and focus on time with
our twin boys led us to creating our farm. Our work on the farm is truly a labor of love and we're proud to raise quality livestock and grow top-notch produce for our local community.
Fluffy Feather Farm takes pride in being a family-owned and operated homestead. We work together as a family to nurture our animals which means we're in a position to tell you anything you want to know about how they're being raised. Our 60-acre homestead in Harvard, IL is where we raise our exceptional herd of high- quality Miniature Scottish Highland Cattle as well as miniature donkeys, chickens, ducks, goats, and a variety of fresh produce. Oh yeah–we live here too!
Here at Fluffy Feather Farm, we strive to make sure that everything we do reflects our core values. What can you expect from us?
Transparency: Ask us anything! We are in a position to tell you what you want to know about how our animals are being raised.
Family-Owned: Everything we do here is a family affair from chores to animal cuddles to stocking the farmstand.
Quality: High quality breeding stock, feed and nurturing care is at the forefront of everything we do.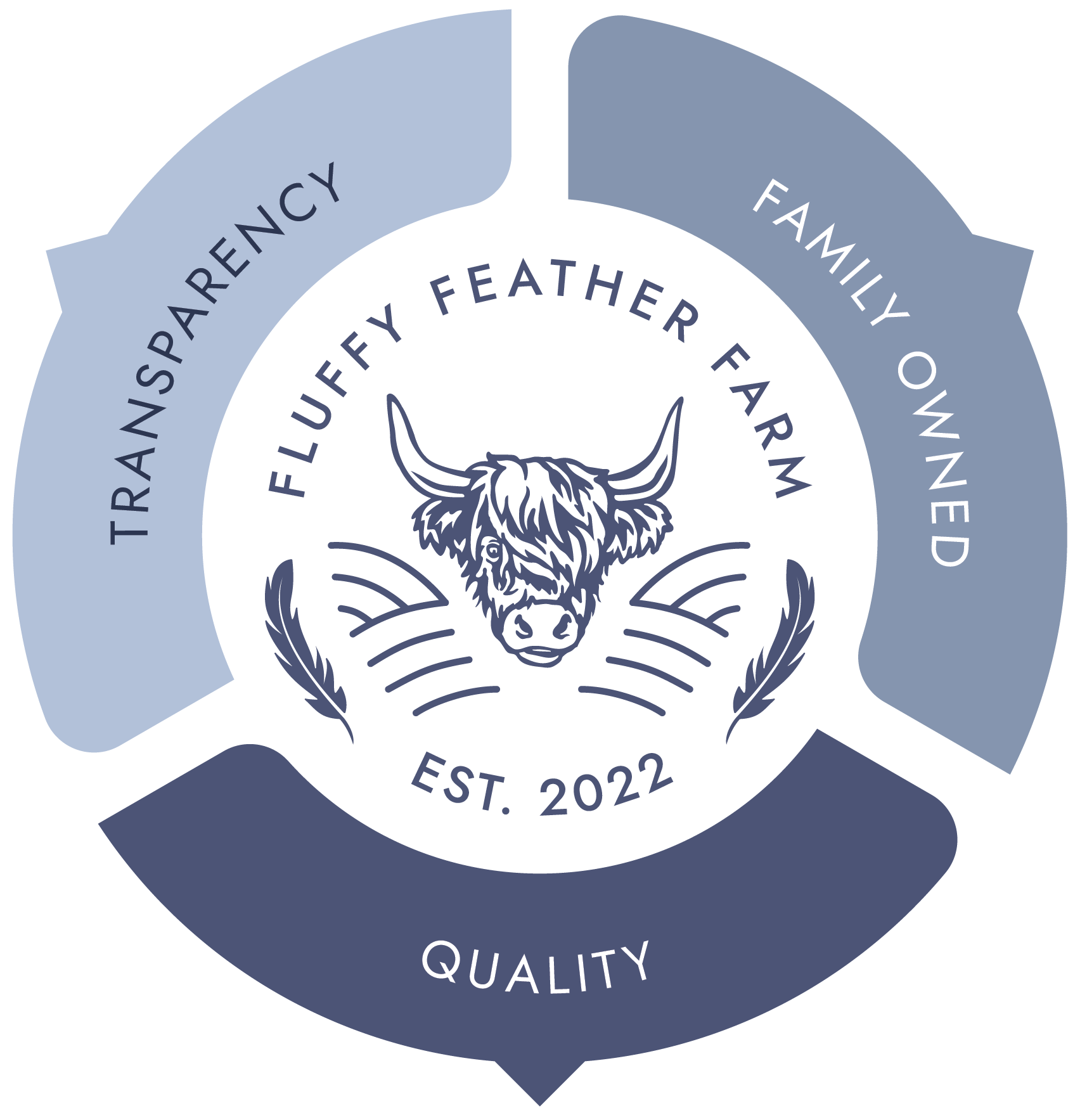 Meet The Fluffy Feather Farm Team
MIKE
The farm may have been Adam's idea, but Fluffy Feather Farms is a family-operated venture, so Mike certainly has his role to play. He enjoys the peace and quiet of the homestead and watching the kiddos care for the land and the animals. Mike's passion is the garden and our awesome Farmstand! Mike is the one that makes everything work behind the scenes.
KALEB
Kaleb adores life on the farm! He's focused on how to sell more eggs, help run the farmstand, and visiting all the animals especially the goats!  Kaleb loves sports which sometimes takes him away from the farm, so he also is an expert on getting Keegan to do his chores.
KEEGAN
Keegan loves getting his hands (and boots!) dirty, helping to care for the cows, donkeys, chickens and ducks. However his favorite is to spend time with the barn cats!  Along with his brother, he's proud to help keep the family farmstand stocked with fresh produce, nurturing seasonal fruits and veggies like strawberries, tomatoes, and his favorite, pumpkins.
Buyer is responsible for transportation from Northern Illinois after weaning
We've got answers! Use the form below to ask us anything—we'll be in touch as soon as possible.